June 2014 Marin Death Cafe – Date to be announced soon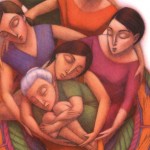 Dear Marin Death Cafe followers,
Another Marin Death Cafe is being planned for the first or second week in June.
It will be held at Book Passages in Corte Madera at 51 Tamal Vista Blvd in the lovely Writers Room Gallery. Book Passages has a great little cafe so you can arrive early in time to get your cake and tea 🙂 and then walk over to the next building to the Death Cafe!
The time will again be from 6-8PM.
We'll post the exact date here as soon as we have confirmed it.
Looking forward to seeing you!
– Nancy Rhine 
P.S. Some of the participants from the April Death Cafe reported that most enjoyable aspects of the evening for them were:
"Meeting interesting people with open minds and intelligent things to offer"

"Talking with others about their experiences"

"Meeting a variety of new people and sharing in such a heartfelt and genuine way"

"Just being with others who were brave enough to share their feelings about death"

"The opportunity to talk with complete strangers and discover ideas in common as well as differences.

"Nice to be in two groups, not just one"

"Coming out of denial about "Death"  – since we're going to die… why not really honestly communicate with others and encourage others and ourselves!!"

"The authenticity of the event, away from trivialities"