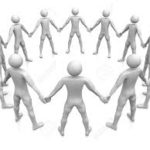 Successful Aging Takes A Team!
Let's talk about why it's critical to their quality of life to have a strong support team around seniors who are growing older.
Why?
Because I see so many older people in my private practice who face, for example, situations where they are grappling with:
family members or loved ones with very strong opinions about what is best for them – opinions that may or may not be informed and wise
*no* family members or close friends at all to advocate for them
a primary care physician who is prescribing medications but not following them in after-care. What is known as the "diagnose and adios" routine.
a specialist or two who is also prescribing – say for instance a cardiologist or endocrinologist – but who is not tracking the interaction of *all* of the medications involved
a psychiatrist who may be also be treating and prescribing psychiatric medications
possibly a nutritionist, alternative health practitioner or two prescribing supplements, vitamins and minerals which may all be fine but which also carry side effects that can contribute to mood problems.
Way more often than not, there is very little, if any, communication and coordination amongst the health professionals. This coordinator function may have been done in the past by the primary care doc who managed the broad perspective overview of how each of his patients were doing. But nowadays primary docs are under so much time pressure in their practices that they just do not have time take on this role.
In order to build that coordinated team which will support an individual's successful aging, it takes someone stepping into the role of being a skilled ADVOCATE. A person who knows how to coordinate effective communication amongst team members and who is in charge of reaching out on behalf of the patient to represent their concerns. Someone who can help the patient communicate their concerns and questions to other team members, and who also helps the patient remember the answers and instructions of doctors. Team members need to work in concert with each other, supporting the various lens through which each patient is viewed.
All of this process needs to be done with the utmost RESPECT for each patient where the patient has TRUST in the advocate that he or she is representing the wishes of the patient towards the goal of the best possible quality of life at any stage.
Gerontologists and mental health professionals who understand the importance of building good communication and coordination amongst care teams can be invaluable to the patient and family. Sometimes, it is care managers who provide this role, sometimes it's an adult child, and sometimes it's gerontological counselor.
Whoever it is that takes the lead in this role, a support team that is identified, built, coordinated and in good communication, will result in a patient who is much more likely to thrive and much less likely to fall through the cracks.
This is the health care situation for older people in our country today. Just the facts. And totally doable to navigate through it successfully. With help. With a solid, caring team.